Posted by Robert J. on Tuesday, March 1, 2016
My newest work is old and new. It's the third edition of the work I self published several years ago. It has been heavily edited and has had new stories added. It's the Stone Maiden and Other Tales, which is primarily a set of stories that received both praise and rejection from those to whom they were submitted. "Thank you so much for sharing this story, It's not quite what we're looking for in this issue, but it was so touching it made me cry. Please continue submitting." I thought why not put them out on my own and see what happens. I did. I sold a few copies. Now, a few years later, Dark Oak Press has picked up the work and asked me to add some new material, which I have. If you've read The Stone Maiden and Other Tales, it's new to you again, because there's new material to the count of three stories you've never read before totalling some seventeen thousand new words. If you haven't, it's all new. It's an eclectic collection with stories for a lot of varying tastes. I hope you take the time to read them. Here's a sample.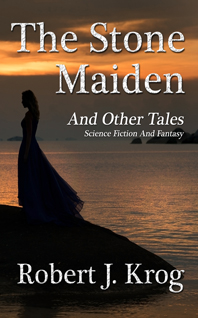 She was not a heavy burden. No, Gallantine could carry her in his arms for days, and he would only feel the comfort that holding her afforded him. But she was sick to death, and it was his heart not his arms that were burdened. He kept a smile on his face and spoke cheerfully to her as they approached the ancient, ruined citadel of Kastikon.
"We're all but there, now, Mina. Soon, I'll get you a drink from the cisterns."
"A drink would be good," she said to him, "but when that is done, put me somewhere in the shade, where you need not fear for me, where I won't be in the way."
"You are never in the way, my love," he told her, raising her to his lips and kissing her forehead.
She smiled at him a wan smile on her corruption-streaked face. The black lines of her veins were showing through more and more. Even the blood vessels in her eyeballs were blackened, making her hazel eyes seem almost black as well.
"Today," she said, "I would be in the way."
"I will be sure that you are safe. That is all."
She nodded and closed her eyes. "I will be quite safe from harm, soon enough.
"Don't talk that way," he told her, "I won't be walking away from here alone."
"You may have to, my love. You may have no choice."
"Is that so?" he asked, for he refused to believe it.
"It's true," she said, "very true."
The brown stones of Kastikon rose only slightly up out of the flat, surrounding blight. Its walls, pillars, and towers, covering almost a square mile, were crumbled to a height only as tall as the height of an average man. Gallantine could see over most of the ruin, for he was a tall man. He passed through the shambles of the gate and wound his way through eroded stones along the stone-cluttered remnants of the old, straight roads to the cisterns to see if Sorres the Magician's spell had sent any rain. They only had the water he had brought, and it was nearly gone. He had only thought to need water for himself.
Old Sorres had said to him, "The power of the Great Troll is much to contend with, and his corruption grows stronger the further up from the depths he climbs. I will send rain if I can, but carry what water you need, just in case." Gallantine was carrying his magical, great-sword, a length of rope and water jar, the purifying potion of Aviberry, a large water-skin, some hard biscuits, jerky, and the unfortunate tag-a-long, Mina, the love of his life.
The cunningly-built cisterns were large, stone basins, roofed to limit evaporation, and equipped with gutters that channeled rainwater into them through sand purifiers. He peered in under the roof of the first one and saw that it was dry. He said nothing, but passed on to the next and then to the next. All were dry. Still, he said nothing, but carried her on through the wide ruin to the Pavement of Petition in which was the Well of Corruption, the well from which no clean water had been drawn in the thousand years since Gilbames had thrown the Great Troll down into its depths.
Noon was fast approaching.
He set her down with her back against the stump of a pillar.
"Not here," said Mina, "I will only be in the way here."
"I'll have you near me until it's time to meet the Dark One," he said, "Drink a little." He held the water-skin up to her lips, but she turned her head.
"It will do me little good, and you need it," she said.
"I'll get more, soon enough," he said.
"Gallantine, I'm not blind, yet. I saw the cisterns as well as you did."
He doubted that, but she must have seen them well enough.
"I thought you had fallen asleep," he said.
"No, I don't dare fall asleep, yet. I won't awaken."
He stroked her hair away from her face and kissed her lips. "Say no such thing. You're too young to die."
She managed to shrug and commented, "So are you, but what does death know of age? I've seen nineteen summers. What of it to death? He only knows he is hungry. My love, you drink the water. The Great Troll knows hunger as well. You will need all your strength to wield your magic blade and slay him."
She closed her mouth and would not open it. He put the stopper back in the water-skin and set it aside for the time being.
In the center of the court called the Pavement of Petition, and he had yet to look at it, was the Well of Corruption, upon an ancient time, known by another name. He turned and went to it, not yet unsheathing his great-sword. There were no water jars or buckets around the well. There was no rope or chain descending from a pulley into its depths. Why would anyone bother? Though, if he succeeded in slaying the Dark One, Gallantine did have a long line and a small water jar in his pack to drop into the well to test the water. There was a steel cap atop the well, but it was rusted, pitted, and ruptured with age. Through it, over thirty years ago, Sorres had looked with magic eyes down into the depths and seen the Great Troll, the Dark One, crawling slowly back up from the Deep Waters into which it had been cast, from the Deep Waters which it had polluted with its foul, foul presence.
Gallantine, looking not too closely, saw only that it was dark inside the well, but he could smell the wafting stench of the corrupt coming out of it. He could sense the malevolence wafting out of it, too. He turned his back on the well. It was not yet noon, not yet. He walked the pavement, reading what he could of the inscription he knew was carven there. He knew it by heart, through Sorres's teaching, though it was mostly covered by dust.
"When the world was young, the Deep Waters were pure, and in the Land of Knod, water was brought up from deep wells to turn the desert to farms and pastures. Came the Dark One, the Great Troll from the Northern Waste, whose aura was darkness, whose breath was corruption, whose touch was death. The great slayer walked the land, turning the tracts and pastures back to wasteland, devouring man and beast alike. No mortal warrior could stand before him, though many tried. But for an immortal warrior, the land would have been lost.
"Came Gilbames the Mighty, son of the Sky-Father, the wrestler who defeated the Lion of Heaven. He met the Dark One, contended with him, and put him to flight. Long did Gilbames pursue the Dark One, chasing him back across the wastes he had made. Upon many days came a fateful day. Gilbames chased the troll up to the Pavement of the Pure, in Kastikon, and here, he caught the Great Troll and wrestled him. And he threw down the Dark One again and again, until, at last, after many days, he hurled the Great Troll into the well of Kastikon in the Pavement of the Pure.
"And, lo, the Pure was made Corrupt and none could drink again from the Well of Kastikon, and at this Gilbames laughed, for he had defeated a great foe upon the end of a mighty struggle. He had added to his story and fame. What did he care that the home of some who had never honored him was made undwellable?
"But the Deep Waters are all connected. Soon, the corruption of the Dark One spread and from well to well, all who drew and drank fell ill and died. No well in the Land of Knod was pure. All were tainted. And the people beseeched Gilbames. 'Go, great hero, go great one, go down Gilbames the Mighty into the Well of Kastikon under the Pavement of the Pure. Go down to the Deep Waters and bring back up the corpse of your foe, The Dark One, that the Deep Waters may be made pure again, and the Land of Knod should not perish for all time.'
"And knowing that all great deeds only added to his story and fame, Gilbames went again to Kastikon and leapt at once down the well, never to return.
"Oh, pray all ye believers, all ye pilgrims that reach this spot, beseech Gilbames the Unwise to complete his task. Ask him with prayers and petitions. Call him Gilbames the Mighty and sing his praises. Let not his fame become diminished, if only he will bring up the Corruption from the Deep Waters that they may be made pure again, and restore the Land of Knod."
But it was not a corpse that came back from the Deep Waters. Nor was it Gilbames the Mighty and Unwise. It was the Dark One, the Great Troll. Well, Gallantine was ready for it. He had been made ready. Born at noon, twenty years ago, twenty years to the day from the day when Sorres had calculated the Dark One would claw its way out of the womb of the world and seek to finish what it had begun a thousand years before. Gallantine was the strong one, the one with a hint of immortal blood. He had spent his life preparing to kill the Great Troll.
He looked from the pavement to the well. He could smell the corruption and the malevolence, but he was unafraid. He looked at the sky. Noon was fast approaching, but it was not noon yet.
Behind him, he heard Mina cry out in pain, so he went to her.
"Now it is time to drink," he told her.
She was gasping and drawn up into a ball from the hurt, but she would not drink.
"Move me so that I'm not in your way, my love. You can't fight the Dark One and worry over me," she told him, so, with a glance at the position of the sun over head, he scooped her up and carried her away from the court, and settled her down by the cisterns. Her skin, where it was free of the black streaks of corruption, was so pale. She shook with the hurt of the sickness spreading through her. Her dark hair was damp from sweat. He bent over her, holding her a bit more. She looked up at him with large, sure eyes, full of pain though they were. They were quiet together for some time, but, after a while, he knew he had to leave.
"Rest here," he told her, "I'll return in a bit."
"Bury me with sandals on my feet and a lock of your hair in my hand?" she asked him.
"Nonsense. I'll carry you back to Sorres, so that he can cure you."
"Now that is the nonsense," she told him sternly, "I have drunk ground water and will die. That is all there is to it. You told me it was ground water not a rain puddle, but I was too thirsty to listen and too guilty at burdening you to share your supply. This is my just desert for coming after you when you asked me to stay with Sorres."
"We all make mistakes, Mina, but we need not die for all mistakes."
"I don't see how I won't die for this one."
"We shall see."
She looked past him at the position of the sun and grew alarmed. "It is almost noon, Gallantine, go, go."

#################################################


I appreciate your taking the time. Below is the link to purchase the book, if you are so inclined.
Robert J. Krog
http://www.darkoakpress.com/stonemaiden.html
null