Posted by Robert J. on Tuesday, March 15, 2016
Tomato Slices fellow contributer Sarah Doebereiner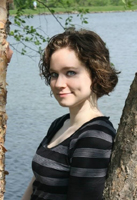 Sarah Doebereiner is a short story author, novelist, and poet. She graduated from Wright State University in 2010 with her BA in English. Sarah lives in central Ohio with her husband and two small children. Macabre themes fascinate her because of their tendency to stay with readers long after the book has been closed.
1. Robert: At what age did you start writing?
Sarah: When I was in Kindergarten, we had different learning stations where you could complete activates. The first time I ever went to the book station (a recorded book on tape with headphones so you could listen to the audio version and follow along with the pictures) the chosen book was Leo the Lop. Leo the Lop is a Serendipity book about a bunny with loppy ears that tries to fit in a world of bunnies with standing up ears. I had very curly hair as a child, and sometimes got lightly teased because it was so messy. Leo resonated with me in a way I never understood a character could up until that point. That is the moment that I wanted to become a writer. Now, realistically I didn't get serious about my writing until I was in college, (after I had earned by BA in Communications) but that's the moment it all started.
2. Robert: What was your first published work?
Sarah: My first professionally published works were in local publications. My high school published some in their annual journal. I had a few poems and a story in The Guardian, which is Wright State University's literary journal. I took second place in the Dayton Daily News short story contest for a humor/social commentary piece in 2014. I believe you can still read that one here: http://www.daytondailynews.com/news/entertainment/books-literature/adult-second- place-our-internal-lives-sarah-doeber/ngF9B/
3. Robert: From whence came your idea/inspiration for your Tomato Slices submission?
Sarah: My story in the Tomato Slices anthology is a slice of life piece of fiction that deals with the anxiety of job interviews. I often look at sample interview questions to prepare myself for company interactions. When I saw the tomato themed submission call, I figured I could incorporate some of the questions into the fiction for comedic affect. Now, you may be asking yourself, what does a tomato have to do with a job interview? Pick up your own copy of Tomato Slices and find out.
4. Robert: What's your favorite cookbook? Why?
Sarah: I'm not a huge cookbook person. I am more of a Pinterest, internet, or ask grandma sort of person. I am not terribly skilled in the culinary field. I think my favorite recipe is my grandmother's chili. I like a thin broth on my chili and hers is just perfect for my tastes. She adds a bit of coco powder that blends nicely with the tomato and other ingredients. Plus, I grew up eating it with her, so it always tastes like nostalgia.
5. Robert: That sounds pretty tasty. Did you base your Tomato Slices story on people you know or know of?
Sarah: My characters are always fictional. I did incorporate some of my own nervous ticks to make the prose feel more legitimate. She probably does have the same sense of humor that I do simply because she is an extension of my imagination.
6. Robert: Do you plot out/outline your stories or just make them up as you go?
Sarah: I plot out my stories quite a bit, but I don't have a strict written procedure. Since I write short fiction, I usually spin it over in my mind until I feel like it's ready to pour out of my skull and on to the page.
7. Robert: Do you have a routine when you write?
Sarah: I have two young children. Most of my writing and editing happens between naps, snacks, playtime, and bedtime. As a result, I end up working a little at a time. Then, I have to go back through and read the piece in entirety to make sure that it doesn't sound disjointed. After that, I like to walk away from the piece and come back to it after a few days or weeks to see if it still feels complete.
8. Robert: Well, you're not the only one in that boat. I have young ones, myself. What is your latest project/release?
Sarah: I usually write horror or cross genre fiction. My first novella, A Turbulent Affair, was published by Black Opal Books in January. It's a F/F dark romance with heavy thematic elements. Oddisms, by FTB just came out this month. I have a special affinity for that one because it's full of stories that are experimental and unusual. I think my story for that anthology was rejected something like twenty times previously for being too odd.
A Turbulent Affair: http://www.amazon.com/dp/B01A58DXGO
Oddisms: http://www.amazon.com/gp/product/069264976X
9. Robert: Persistence pays off. What book do you read over and over the most?
Sarah: This will sound super nerdy, but I could read the Harry Potter books at any given moment. I also enjoy a YA author named Amelia Atwater-Rhodes. She influenced my love of reading at a young adult level, and her characters have stayed with me into adulthood.
10. Robert: You are right. That does sound super nerdy, but it does not sound bad, and nerdy is okay. What genre do you prefer to write? To read?
Sarah: I enjoy darker stories and often write in horror. If I have any preference, then it's for psychological or creature horror over splatter or slasher work. I think horror has the unique ability to capture and astound the imagination. Horror gives people a chance to see and process fear in a safe environment.
11. Robert: Do you like to cook your own tomatoes or have someone else cook them for you?
Sarah: I like fresh, raw tomatoes the best. Add a little salt, and I will eat them like an apple. Cooked tomatoes can be somewhat slimy if prepared incorrectly. I use quite a bit of Hunts Tomato sauces in my cooking. My favorite is the basil blend because it gives the meal an extra zing.
12. Robert: Nice. In your humble opinion, who does tomatoes better, Italians or Hispanics? Or some other ethnic group?

Sarah: I'm going to say Italians, but the reason is purely selfish. I love pasta and ravioli. I could eat them every day happily. For me, no one does those better than Italians.
13. Robert: Do you prefer writing short stories or novels? And why?
Sarah: I prefer short stories. It takes a year or more to write a novel. Longer works need to have a sustained voice, mood, and pace. For someone who cannot devote regular intervals to writing at this time, because of the children and my day job, I feel that short stories suit me better. However, I did recently finished a 10k word short story. I hope to publish a YA paranormal mystery novel that is currently in the Beta Reading stage.
14. Robert: There we are in that same boat again. Who are your literary or artistic inspirations?
Sarah: I identify largely with YA writers like L.J. Smith's early work, Amelia Atwater-Rhodes, J.K. Rowling. The horror side of me loves Frankenstein, Clive Barker, Edgar Allen Poe, Bram Stoker, and Ann Rice. I'm not a huge fan of Lovecraft. It seems like Lovecraft is 'the thing' in horror these days. I find the language stylistically dense and antiquated. Though, I appreciate some of the devices, it's not my cup of tea.
15. Robert: What are you working on now?
Sarah: I am working on a YA Paranormal Mystery. The main characters are a ghost and a high school girl who team up to discern the truth about the girl's parents' disappearance. I want this book to express diversity and reach out to underrepresented groups so that everyone can find a character they can relate to.
16. Robert: Why should we support Tomato Slices?
Sarah: We live in a time where authors have more accessibility to the tools of the publishing trade than in the past. The result has been this huge boom of the self-publishing and indie-publishing fields. That is both a good thing and a bad thing because it seems like anyone can, and will, write a book. There are millions of hopeful stories jumping off of the shelves at us, begging to be read. Unfortunately, many of those fall into tropes, clichés, and common conventions.
The joy of a project like Tomato Slices is that it is fresh and different. It incorporates elements for the readers, art lovers, chefs. It is full of elective perspectives and different writing styles that work together in harmony to form a strong, engaging whole. And, after all, who doesn't like t tomato now and then? Maybe you eat 'em, maybe you throw 'em. If you give Tomato Slices a chance, you'll be helping authors and artists rise above the noise and be heard.
You may find more about Mrs. Doebereiner and her work at the following:
Goodreads: https://www.goodreads.com/author/show/14067290.Sarah_Doebereiner
Amazon: amazon.com/author/sarahdoebereiner
Facebook: https://www.facebook.com/sarahadoebereiner
null